Bee Tree Rescue, thanks to DDOT, the DC Council, and Urban Beekeepers Ready to Help

(photograph taken by Jack Chapman of the District Department of Transportation/DDOT)
It would be wonderful if we lived in a world where every old tree could have a second life as habitat for smaller creatures, but cities are a kind of human hive, and we have to think about how things work for everybody.
The dying red/silver maple on the 300 Block of C Street SE was in danger of losing limbs and damaging car and people, and in the course of its decline the neighbors suddenly realized that there was a large honeybee colony in the tree. The colony had probably been there for years, flying in and out of an entrance 10 feet up until it became clogged with rotting debris from inside. The bees started using a much lower entrance, and that is when the locals got concerned!
What beekeepers know that the average person doesn't is that these bees had beaten all the odds. Without assistance in managing the pests and the environmental changes that contribute to Colony Collapse Disorder (CCD), without help in getting extra food and space over at least one terrible winter, these bees had survived and thrived! It is a tribute to how green DC's environment and the practices of its residents have become! And also, if we want to find a way to help bees survive, it appears that we have to turn away from finding pesticides to put in our bee colonies, and instead find locally-tuned genes that help bees grow strong and able to withstand all the changes around them without chemical intervention. These bees have at least part of that puzzle.
(photograph by Jack Chapman of DDOT)
Upon discovery of a colony of 30-50,000 bees at knee level, a few neighbors were understandably frightened enough to seek help from the city government in poisoning the hive, but a call to the local city council person, Tommy Wells, resulted in something wonderful for the neighborhood, the bees, local beekeepers, and the environment: a chance to move.
Twenty years ago, wild bees in forest trees and similar habitat performed a greater percentage of crop pollination than they do today. Farmers could calculate whether or not (or how much) outside pollination service would be necessary to bring their crops to fruition based in part on the amount of nearby forest or uncultivated fields. Our closely linked global economy changed all that, however, when pests, like the Varroa mite and the hive beetle which prey on honeybees were able to reach all parts of the world and honeybees found themselves with few natural defenses. Though it is possible to find a wild swarm or colony now, these populations tend to have poor health and little chance of long-term survival. Unfortunately, our woods and fields are far less abuzz with bees than they used to be.
Councilmember Wells' team put us in touch with the District Department of Transportation (DDOT) and the urban forestry team, which enthusiastically offered to help us carefully remove the tree and move the bees to a safe new home, in a place where beekeepers could help look after them.
The photos below (more to come) show the DDOT tree carefully trimming down the trunk to the size of the nest inside in order to preserve it but make the trunk transportable. A group of urban and local beekeepers (Scott Seccomb, Toni Burnham, Leigh Walton, Ian Bens, Vernice Woodland, Heidi Wolff, and Karl Moeller) maneuvered the tree into a pickup, where we moved it to the Franciscan Monastery for disassembly and mounting of the combs inside into modern hive bodies. The colony was about 6 or seven feet in length, with at least 40,000 bees and another generation on the way. Scott found the queen and we carefully protected her while setting up her new home. Once we placed honeycomb, developing bees, and the queen inside, the rest of the bees followed her in over the following night.
We left a bait hive in place at the original tree site, in order to give any stragglers a place to go, and to retrieve them after sunset that day. Those bees have also been relocated now.
We are grateful to the Franciscan Monastery, which continues to show its committment to the world of people and living creatures as well as that of the spirit, for giving us the space and the time to complete this rescue.
Finally, we are grateful to the DDOT urban forestry folks, who have asked that we continue to work together to find a place for bees, where appropriate, in our tree canopy, and to carefully re-home them with their professional help whenever possible!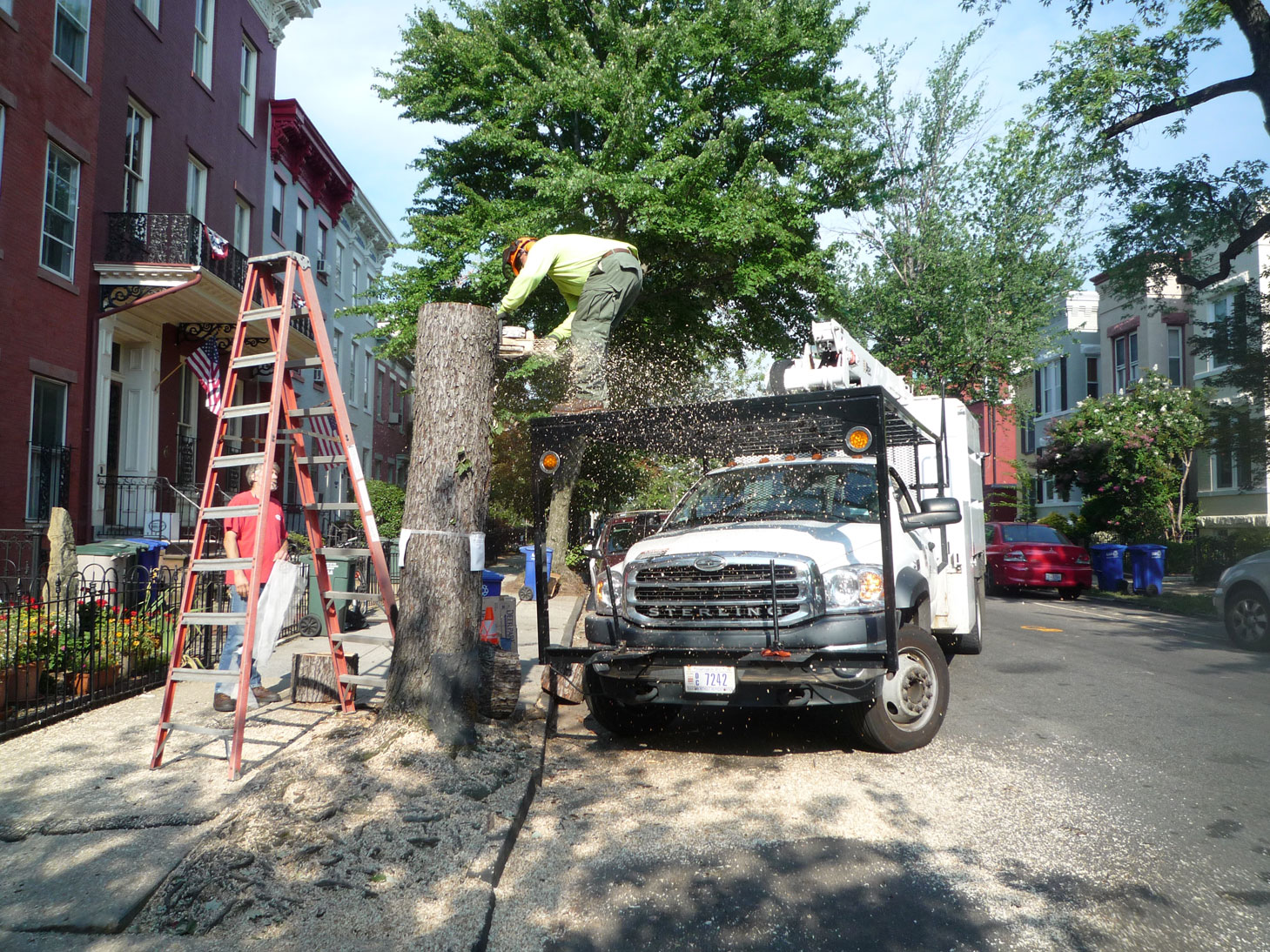 (photograph taken by Jack Chapman of the District Department of Transportation/DDOT)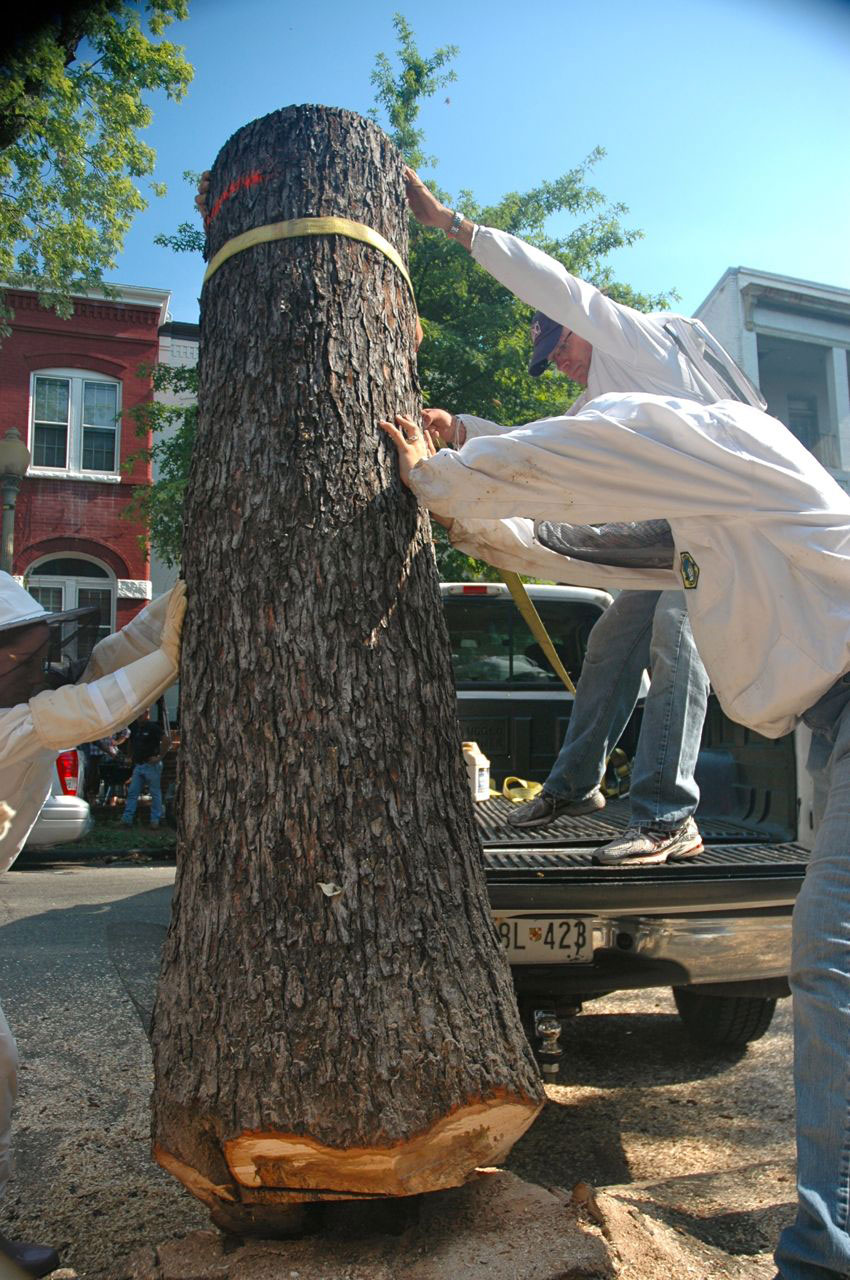 (photograph taken by Chef Ian Bens of the Fairmont Hotel)

(photograph taken by Chef Ian Bens of the Fairmont Hotel)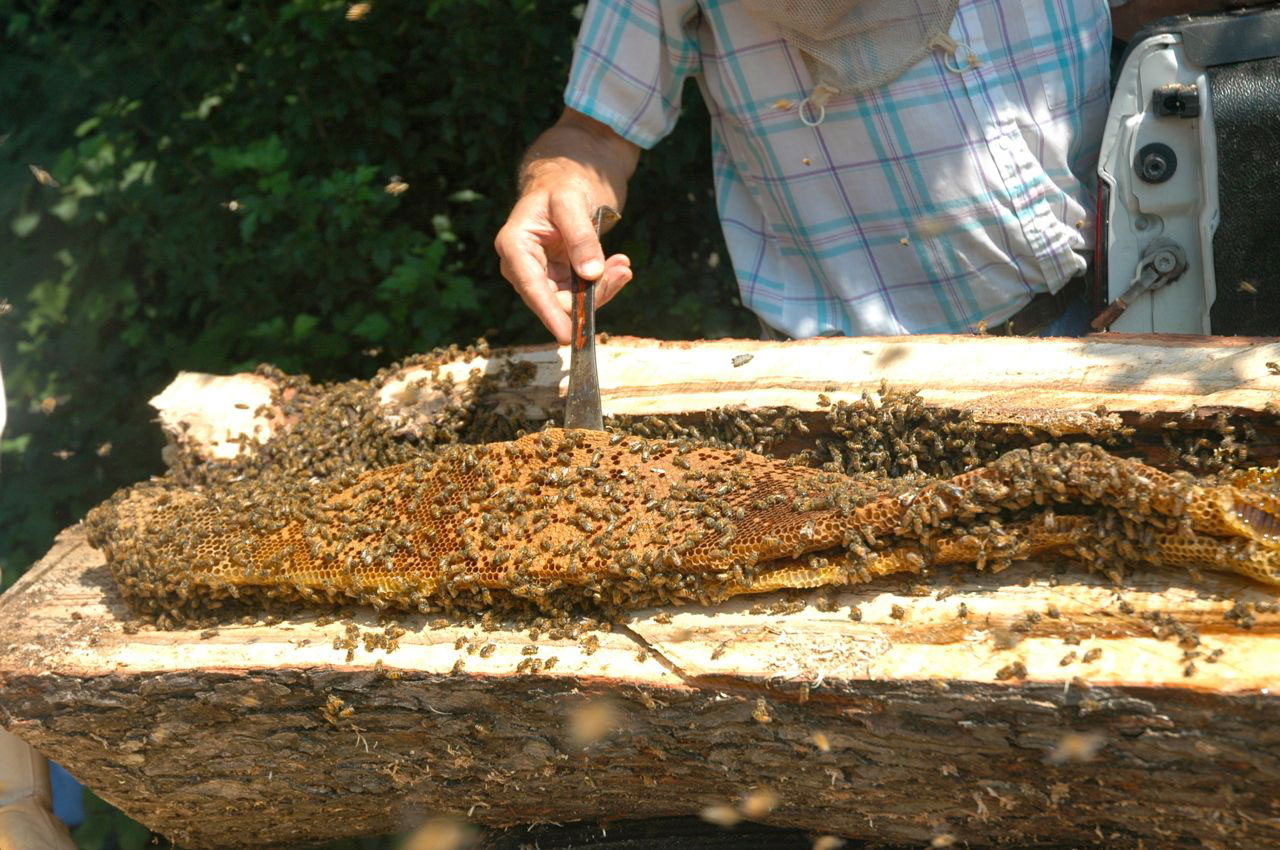 (photograph taken by Chef Ian Bens of the Fairmont Hotel)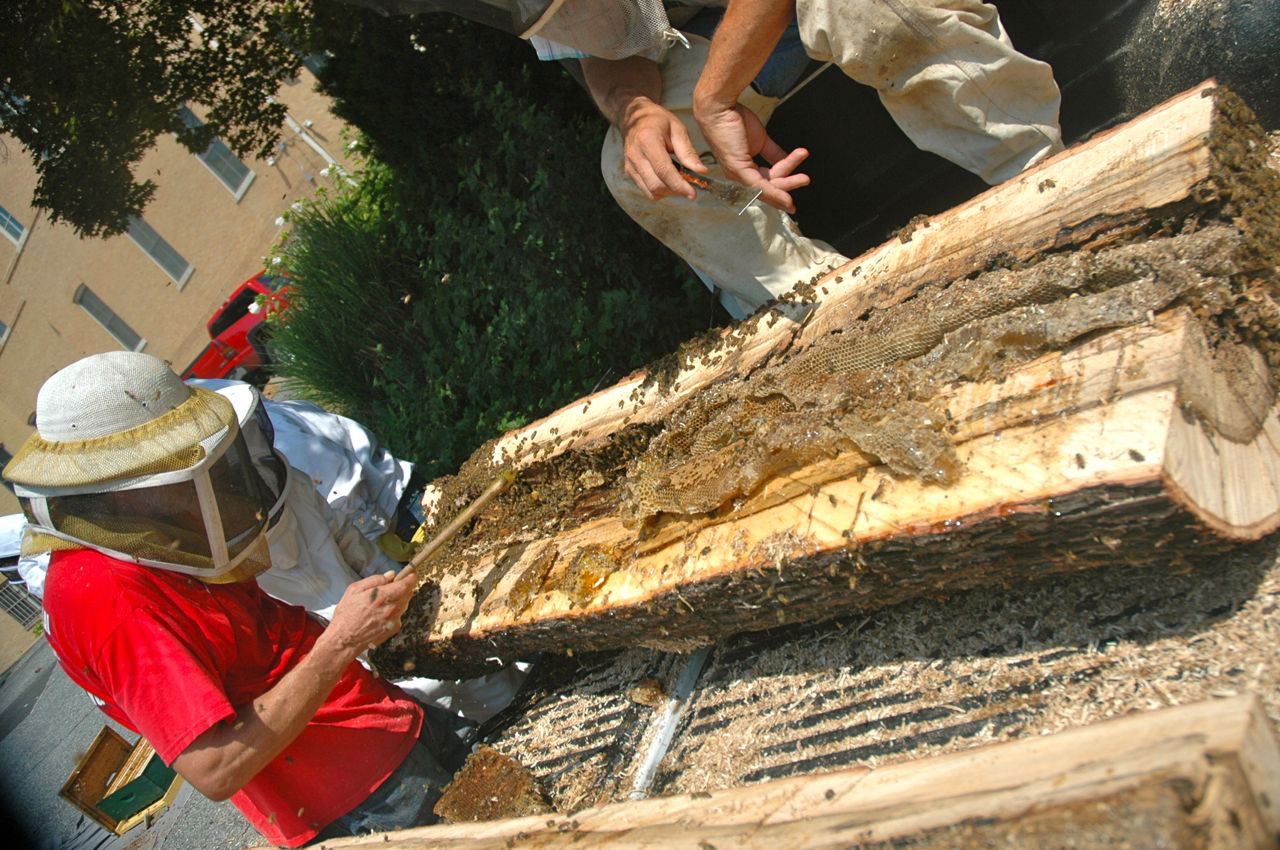 (photograph taken by Chef Ian Bens of the Fairmont Hotel)

(photograph taken by Chef Ian Bens of the Fairmont Hotel)